5 Tips for a Safer Webcam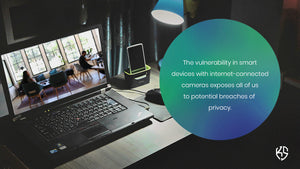 Every year, more and more web-connected devices enter the market and our homes. Our computers, tablets, laptops and TVs are just a few of the items that are now considered smart, connected to the rest of the world via a simple internet password. As our children begin homework on laptops, families play games on their living room televisions and home office computers stay on for easy email access, it's wise to begin to , or remember to, follow steps to keep your web cameras secure.
5 tips to keep your webcam secure:
1. Keep your software and anti-malware updated.
A common reason for programming updates is improved security. With every delay in update on the user end is additional opportunity for a hacker to find a weak spot.
2.
Review and actively participate in your security options for every device.
As you set up and connect every smart device in your home, use the maximum levels of security they offer. Opt for two-factor authentications and set up a unique password. Many web-connected devices come with auto-generated or default passwords, which are easy to discover. Change them immediately and begin a password log.
3.
Do not use the same passwords across your devices.
Use strong and unique passwords for each computer, tablet, phone and laptop. Remind your children to do the same if they are using devices in dorm rooms and apartments.
4.
Stay up to date on the signs of phishing scams
And the newest hacking trends in the industry. By staying vigilant, you can work to prevent hackers accessing and assuming control of your webcam through a RAT, or remote access Trojan/remote administration tool. Don't open unknown email attachments and don't follow spammy links.
5.
Physically block your camera.
KamShield webcam covers provide physical barriers between hackers and your family's privacy. Discreet, or designed for kids, the low-profile covers adhere directly to device screens to offer a simple slide-to-open or close option for users.